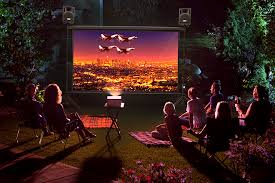 Instead of going to the movie theaters this summer, invite some friends, get some snacks and enjoy your favorite movies from the comfort of your own backyard! Creating this magical cinematic experience is much easier than it seems. Really, all you need is a projector and a wall. However, some projectors are better suited than others for outdoor viewing, based on factors such as lumen output, throw distance, portability, and the audio source. The projectors on this list check off all the boxes for a perfect outdoor movie night. 
Lumens: 
The lumen rating in a projector is the measure of its brightness. Ambient light is a big factor when looking for a projector to use outdoors, since it's impossible to make the outdoors pitch black like a home theater. You'll want a projector with a high lumen rating, like the ones listed below, that can shine bright through that light pollution.
Throw Distance:
The throw distance of a projector is a calculated equation of how far the projector can "throw" the image onto the screen and how big the projected image will be from that distance. When looking for a projector, you will see the terms "long throw", "short throw", and "ultra short throw". Long throw projectors need to be placed further away from the screen to show a large image, whereas short throw projectors can be placed closer to the screen while displaying the same large size image. Whether a long or short throw will be better for you, depends on how large your space is and how close you want to place your projector to the screen.
Portability: 
Of course, if you want to use your projector outdoors you're going to need one that you can easily carry, set up, and connect to your movie-watching devices. For the utmost convenience, you'll want a projector with a lot of ports (or bluetooth) to easily connect. This also goes hand-in-hand with the audio source. A projector with a built-in audio system will be much easier for outdoor use because you won't have to worry about setting up a speaker system.
Optoma GT1080
Even though this projector was made for gaming, it is an excellent choice for an outdoor movie projector. It features a high lumen rating of 2,800, and a short throw distance that allows for a 100" image from only 3.5 feet away. It contains multiple ports and convenient digital connectivity. To top it off, it has its own powerful built-in speaker. It uses a SP.8VH01GC01 projector lamp, which you can find here. 
BenQ HT2050A
Gaming projectors seem to possess a lot of the same features that are important for outdoor use, and this one is another great example of that. With a lumen rating of 2,200 and cinematic color technology, your videos will be crisp and clear. It has a short throw ratio that can display images up to 300". Weighing in at only 7.2 lbs, and featuring multiple connection ports, this projector can be easily moved and set-up anywhere. Lastly, it has its own built-in 10W speaker for crisp sound without the hassle of setting up a sound system. The 5J.JEE05.001 lamp for this BenQ projector can be found here.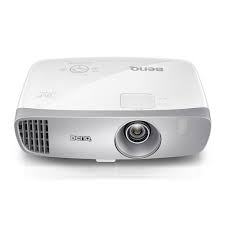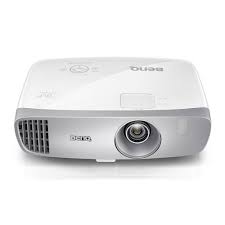 Epson Home Cinema 2045
This Epson projector is just as perfect for outdoor movies as it is for a home theater. You will be sure to get vibrant images with its 2,200 lumen rating and high color brightness. Enjoy high-quality audio from its built-in 5W speaker, while projecting videos up to 300" with this portable 6.9 lb projector. Expect easy set-up with multiple port connectivity options, along with wireless capability. This projector has a lamp life of about 7,500 hours using a V13H010L87 lamp, which you can buy here when it comes time to replace it.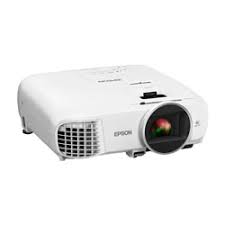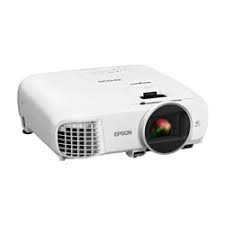 Viewsonic PJD7720HD
With a whopping 3,200 lumen rating, there's no doubt you'll get the brightest and clearest images possible even with a lot of ambient light outside. This projector has 2 built-in 10W speakers and offers flexible connectivity, including wireless, for easy set-up and portability. This projector is a top contender for a high-quality outdoor projector at an affordable price, and you can get the RLC-100 replacement lamp here.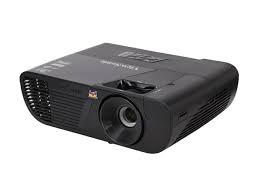 Panasonic PT-AE8000
Last but not least, the Panasonic PT-AE8000 is another excellent choice for outdoor use. The main goal of this projector is to provide a first-rate cinematic experience. Which is why it features 2,400 lumens of brightness, a high contrast ratio, vibrant color capabilities and 3D viewing options. 3 HDMI inputs allows for easy set-up and connection to any devices. The lamp life for this projector is about 4,000 hours. Once it comes time to replace the ET-LAA410 lamp, find it quick and easy here.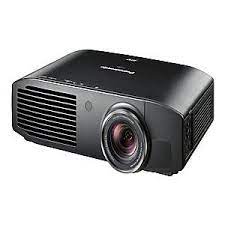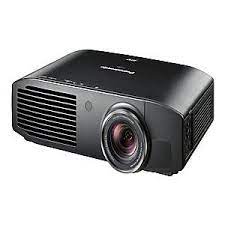 Keep in mind, these are just a few out of the many great options on the market, and the best projector for you will always depend on your specific needs, but hopefully we've made it a little easier for you to find the perfect projector for your summer movie nights! If you have any questions or are looking to buy replacement lamps for your projector, please contact Pureland Supply today! You can visit our website, or call us at 610-444-0590.